About Us | The Abilene Machine Story
At Abilene Machine, our heritage is rooted in helping your operation be successful. When farmers struggled to afford the hefty price tags of farm equipment during the economic crisis of the 1970s and 80s, Randy Roelofsen was driven to do something about it. He started dismantling old farm machines in his one-car garage and selling the used parts.
That little business grew into Abilene Machine, one of the largest family-owned agricultural parts companies in the United States. We've grown so we can offer you more parts, better value and honest, personal service. And we've done it thanks to an incredible team of employees.
Many of us farm or grew up on family farms. We understand the challenges you face. And we're committed to helping your operation be successful by providing dependable replacement parts at fair prices. That's our heritage.
We've come a long way since that one-car garage. Thank you for being along for the ride. Thank you for being part of our Abilene Machine family.
Our STORY
When Randy Roelofsen was 29, he and his friend Loren Engel started our company to help bring value to Kansas farmers. Shortly after that, Randy's nephew Todd Roelofsen came on board. Although the Roelofsens would rather work in the background than step into the limelight, it's impossible to tell the story of Abilene Machine without telling their story too.
"I'm a farm boy. I grew up on a farm. I spent my whole life dealing with farmers and I love talking with farmers every day as part of my job," Randy said.
Randy's background, which included life on the family farm and early jobs at salvage yards, gave him a unique perspective on agriculture and the machinery that drives it.
Todd's curious mind and passion for the engineering behind ag parts has driven him to find new ways to expand our company.
"When I started, I was the only parts guy. We kept getting calls for the same used parts and, as we ran out, we started manufacturing them new," Todd said. "Being able to service the farmer and supply his needs was our main goal."
Forty years later, our company — Abilene Machine — continues to provide value to farmers across the country and world.
Growth hasn't been without its challenges, like a large fire that claimed a huge inventory of used parts and our sales and accounting offices in 2004. Randy and Todd rallied the employees, who sprang into action. Not only did we rebuild, we expanded our facility and capabilities.
"It's an amazing business," Todd said. "We have a lot of great people working here."
Todd notes that as a family-owned company, there's a level of trust and loyalty you don't find elsewhere. But here, family is about more than blood. It's about the sweat equity of all of our employees.
"We think family all the way up and down the ranks. I preach that to my people," Randy said. "I'm proud of the outstanding team that works tirelessly to ensure the highest level of customer satisfaction every day."
As we look to the future, we're committed to continuing our legacy of serving our farmers.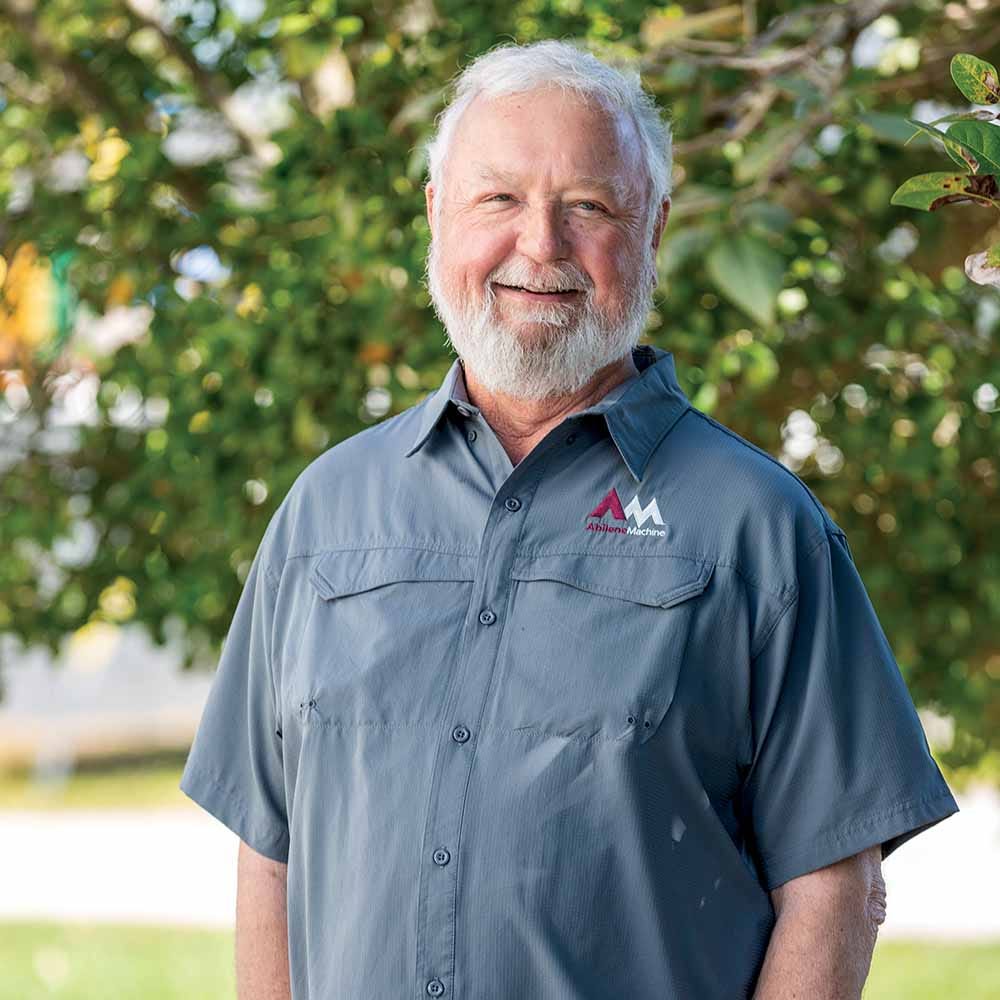 Randy Roelofsen, Founder & President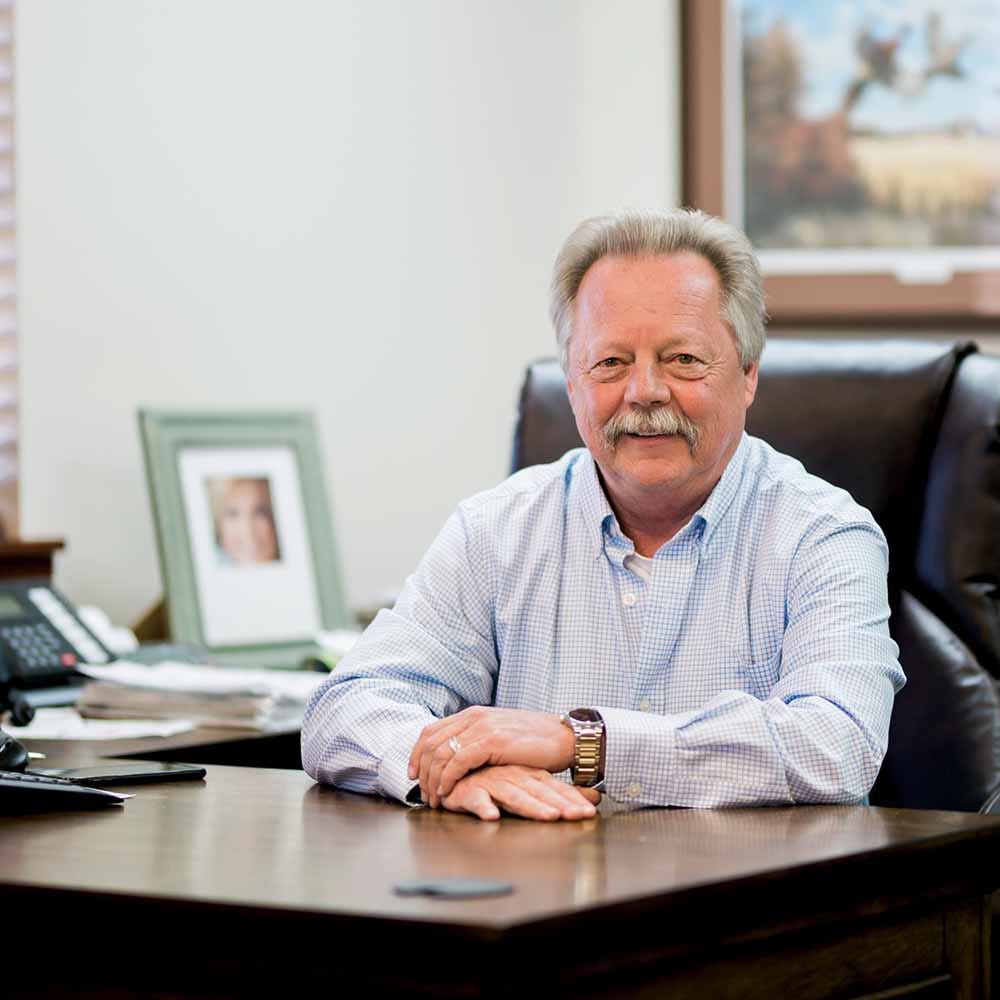 Todd Roelofsen, Owner & Vice President
Abilene Machine's proud history of raising standards has helped us grow from a small, Kansas-based company to a nationwide retailer and manufacturer of ag replacement parts.
1980 & 1981

- Randy Roelofsen and Loren Engel expand their trading operation into a salvage yard business - buying and selling used farm equipment.

- Randy's nephew Todd joins the business.

1989 & 1990

- Our name officially becomes Abilene Machine Inc.

- We reach a milestone of 50 employees.

1991

- We become the first salvage yard to introduce a water reclamation system - reducing the amount of water we use and ensuring it doesn't escape into the environment.

1992

- We release our first catalog featuring 72 pages of combine and tractor parts.

1995 & 1996

- We become an official distributor for Goodyear ag belts and expand our inventory of engine parts.

2003

- Our catalog grows to more than 500 pages.

2004 & 2005

- A fire destroys 5,000 square feet of office space and 15,000 square feet of warehouse space at our headquarters. (Click Here to Read More)

- We rebuild and open our new

headquarters, including 11,000

square feet of office space and

39,000 square feet of warehouse.

2012

- We unveil a new logo with a tagline that reflects our commitment to our customers: Honest. Personal. Service.

2020

- As we celebrate 40 years in business, we reflect on our history of evolving to meet our customers' needs and look forward to what the next 40 years have in store.
Our Parts Departments: New, Used and Remanufactured
Getting you the parts you need is a responsibility we take seriously. That's why we stock more than 100,000 parts nationwide. From new seating to rebuilt engines, our aftermarket parts are a dependable, affordable alternative to OEM parts.
When you shop with us, you know you're getting extraordinary quality whether you buy new, used or remanufactured parts. Get to know a bit more about each of our departments.
New
Some parts naturally get more wear and tear and need to be replaced more frequently. To make the most of your investment, buying new parts when you make those replacements is the best way to get a good value. It just makes sense.
Whether we work as a distributor or fabricate those parts ourselves, we offer high-quality new replacement parts for high-wear items. Our new parts inventory is manufactured according to OEM standards and practices.
We Offer Products for the Following Manufactureres of Agriculture Equipment: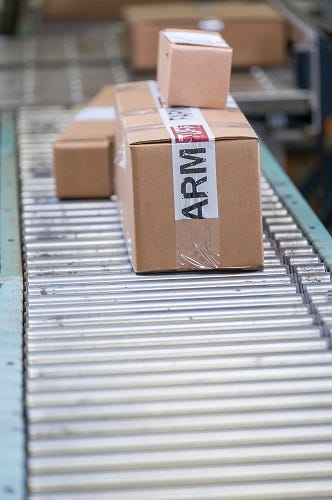 Used
We started in salvage and our yard is now one of the largest single sites in the United States. That means we've got a huge selection of equipment to pull from so you can get the part you need.
We apply stringent quality control measures throughout our process. When we tear down used equipment, we drain fluids, check cabs, remove fenders and other sheet metal, and perform a dynamometer test on engines to check their horsepower and oil pressure.
Engines that are in high demand are sent to our rebuild shop, where we determine if they're in good enough condition to rebuild.
Additional parts are pulled, cleaned and greased as needed. All parts are inspected twice to make sure they're in good condition. Our used parts also come with a standard one-year warranty.
What does all this mean for you? High-quality used parts and peace of mind.
Remanufactured
We have an in-house remanufacture facility that incorporates state-of-the-art techniques. Our remanufactured parts go through rigorous testing by qualified technicians and are more cost effective than OEMs. They also come with a standard one-year warranty. All transmissions are tested under load in every gear and pressures are monitored at specified temperatures. If they pass inspection, the ready-to-use assemblies are shipped in special steel freight carriers to ensure they arrive at your farm damage-free. Select parts from used machinery are cleaned, rebuilt and inspected. Multiple parts might be sold separately or built into an assembly. All of our remanufactured parts must pass inspection before we sell them to you.