FORD NEW HOLLAND® REPLACEMENT PARTS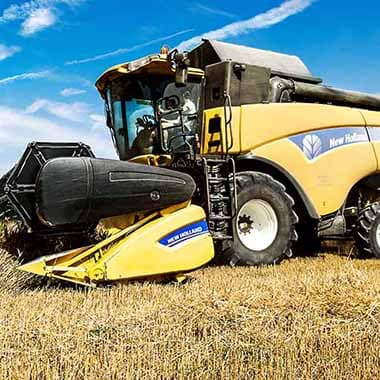 AFTERMARKET PARTS BUILT TO LAST
ABOUT OUR FORD NEW HOLLAND® PARTS
If you rely on Ford New Holland® equipment to get the job done, we're here to help. At Abilene Machine, we know how important it is that your equipment runs smoothly all season long. That's why you can count on us to ship the parts you need right to your door so you can get back to work.
We carry a huge selection of parts for Ford New Holland® tractors, combines, swathers, headers, harvesters, planters and drills, balers and more.
Abilene Machine ag replacement parts meet all OEM specifications and requirements. Our FarmTuff® parts are rugged enough to stand up to the wear and tear of heavy farm use
FORD NEW HOLLAND® TRACTOR PARTS AND MORE
Our inventory of nearly 200 ag replacement parts means you'll have no trouble finding the Ford New Holland® parts you need. Our most popular Ford New Holland® parts include:
Air Conditioning & Components
Augers
Axle Assemblies & Components
Belts
Cab Components
Cornhead Parts
Cotton Picker Parts
Engine Overhaul Kits & Components
Feederhouse Parts
Fuel System Parts
Hydraulic Pumps & Parts
Injection Pumps & Parts
Injectors
Mechanical Front Wheel Drive Parts
Radiators & Components
Seats & Upholstery
Sickle Assemblies, Drives & Components
Spindles
Starters
Steering Parts
Tie Rods & Components
Used Engines
HONEST. PERSONAL. SERVICE.
As a family-owned company, Abilene Machine has been providing farmers with dependable aftermarket replacement parts for over 40 years. Many of us farm or come from family farms, so we know how important it is to be able to count on your equipment to work the field when you need to. Whether you need to make a repair or perform scheduled maintenance, you can depend on us to help keep your equipment in great working condition. Our parts are shipped fast and built to last.
Having trouble finding the part you need? Contact us and we'll ensure you get the parts you need so you can get back to work.