Nowadays, agricultural equipment has electronic control units for almost every system, so there's a big need to have a diagnostics tool to fix any issues your tractors, combines, harvesters, sprayers or implements may have. With the right to repair ag machinery, you can expand your business to cover other brands or become independent and service any ag equipment with electronics on the market.
Abilene Machine is proud to offer state-of-the-art diagnostics equipment by Jaltest® to help. Whether you run a large farming operation or are a dealer serving farmers, these advanced systems will help you speed up the repair process so you can get back to the work at hand.
What Is Jaltest®?
Jaltest® AGV is the most complete all-makes, all-models and all-systems diagnostics solution on the market today. With Jaltest®, you can reduce downtime by solving Power Limitation, Maintenance Warnings, Components Wear and Sensor Failures. Their system covers every major agricultural brand, including John Deere®, Case IH®, Ford/New Holland®, Kubota®, Massey Ferguson®, Challenger®, Gleaner® and more.
With Jaltest®, you can scan machine systems, identify error codes and access technical diagrams for more than 100 makes and models. The easy-to-use interface simplifies troubleshooting, so you can make repairs fast and reduce downtime in the field.
You can upgrade your unit to add Off Highway equipment to repair stationary engines, skid steers and more. It's also possible to connect to pickups (LCV module) or trucks, buses and trailers (CV module). If you have telehandlers in your farm or you service them, you can also add the Material Handling Module.

System Capabilities
In addition to handling error codes on your equipment, you can:
Calibrate components and systems (injector coding, transmission, spool valves, hydraulic lift, etc.)
Perform actuations and system checks like the cylinder cut-out or the verification of the SCR system
Perform regular maintenance to solve power limitation issues or aftertreatment issues such as the DPF regen
Access repair guides by symptom
Access vehicle technical and maintenance data with wiring diagrams, pinouts and diagrams of different components.
Jaltest® provides advanced technical support based in the U.S. to answer questions and provide guidance on using the system. They make it easy to keep your equipment running smoothly.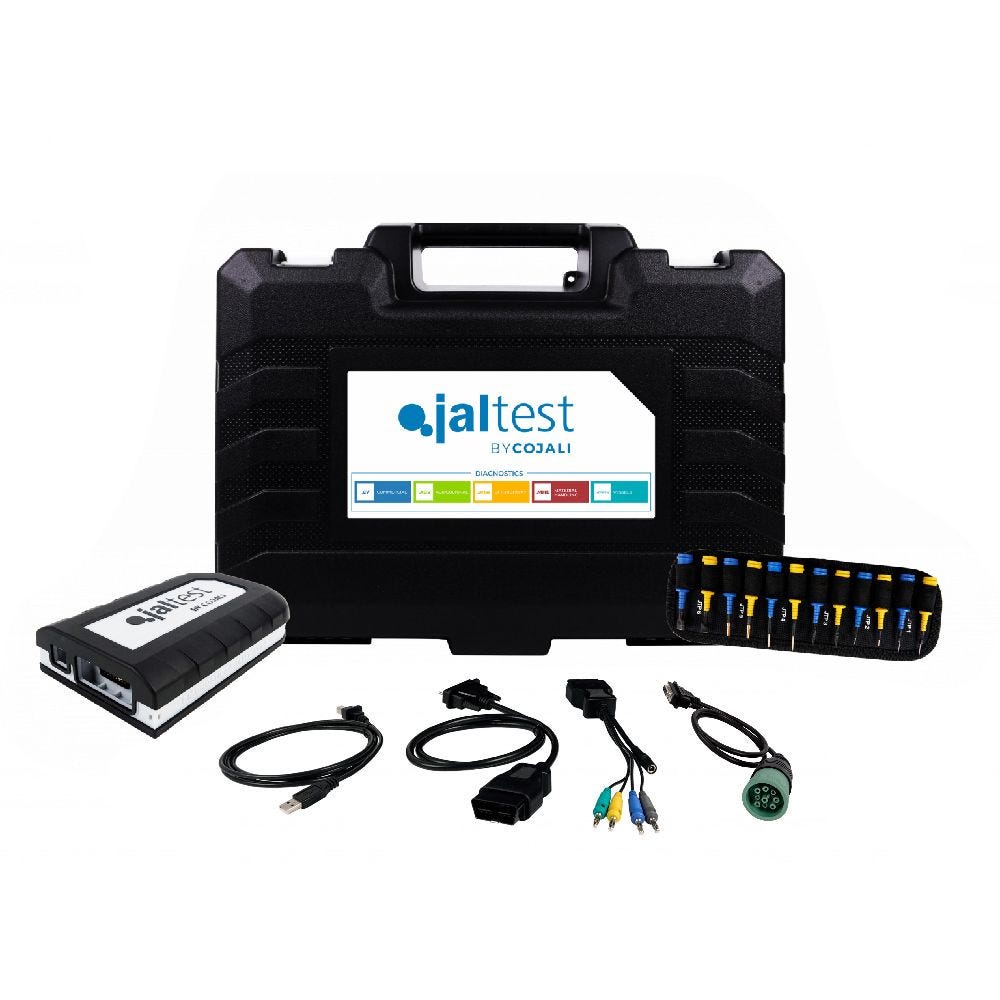 JALTEST AG AND OFF-HIGHWAY DIAGNOSTIC SCANNER KIT
Covers 177 equipment brands and more than 3,500 specific models of Skid Steers, Loaders, Cranes, Dozers, Dump Trucks, Backhoes, and more.
Price: $5,780.00
JALTEST AGRICULTURAL VEHICLE DIAGNOSTIC SCANNER KIT
Covering up to 123 different brands of Ag and other off-highway equipment such as tractors, combines, harvesters, sprayers, implements and more.
Price: $4,120.00
JALTEST® RUGGED COMPUTER LABTOP
Features:
- Compact and light
- Fast connectivity
- Ergonomic design
Price: $2,260.00
JALTEST COMMERCIAL VEHICLE DIAGNOSTIC KIT WITH MULTIPIN
This kit can connect to 121 brands, 4,072 models of trucks, trailers, busses, pickups, and drivetrain manufacturers like Cummins®...
Price: $7,550.00