LED Replacement Lights for Ag Machinery

Abilene Machine is proud to offer lighting products by Tiger Lights®. From work lights that help extend your working hours to signal lights that help keep you safe on the road, Tiger Lights® is one of the most trusted names in agricultural and ATV equipment lighting.
If you need a replacement, trust Abilene Machine for these dependable parts at farm-friendly prices. We offer:
Trapezoid lights

Work lights

Taillights

Warning lights

Light bars

And more
Tiger Lights® parts fit a variety of makes, including John Deere®, Case IH®, New Holland®, Kubota®, Massey Ferguson®, Agco® and Allis Chalmers®.
Click here for more information about Tiger Lights® product offerings.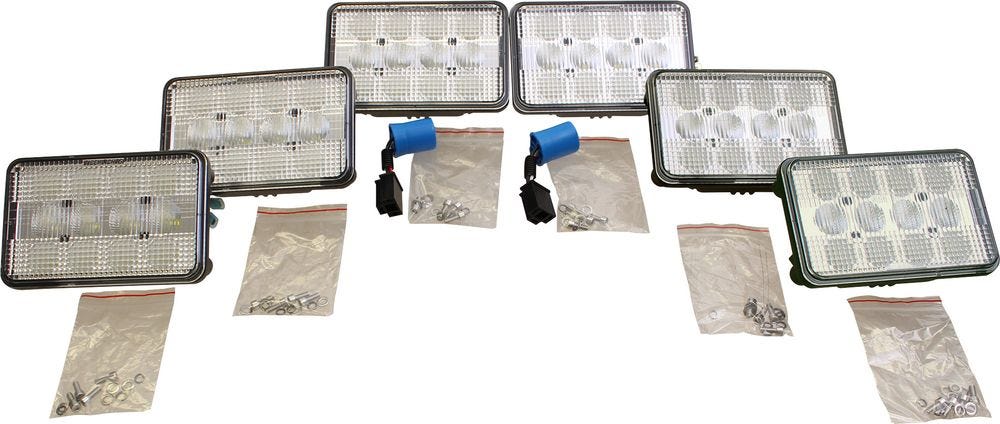 LED FLOODLIGHT SPOTLIGHT COMBO KIT FOR CASE IH® COMBINES, TL2388-KIT
Case IH® Combines - 2144, 2166, 2188, 2344, 2366, 2377, 2388, 2577, 2588
Includes (6) 4.00" x 6.00" Rectangle Combo Lights
Each Light is 3500 Lumens, 60 Watts, 5 Amps
For 12 to 24 Volt Systems
Direct Replacement, Plug-and-Play
Includes:
2 - Center Hi/Lo Beams
4 - Outer High Beams
Mounting Hardware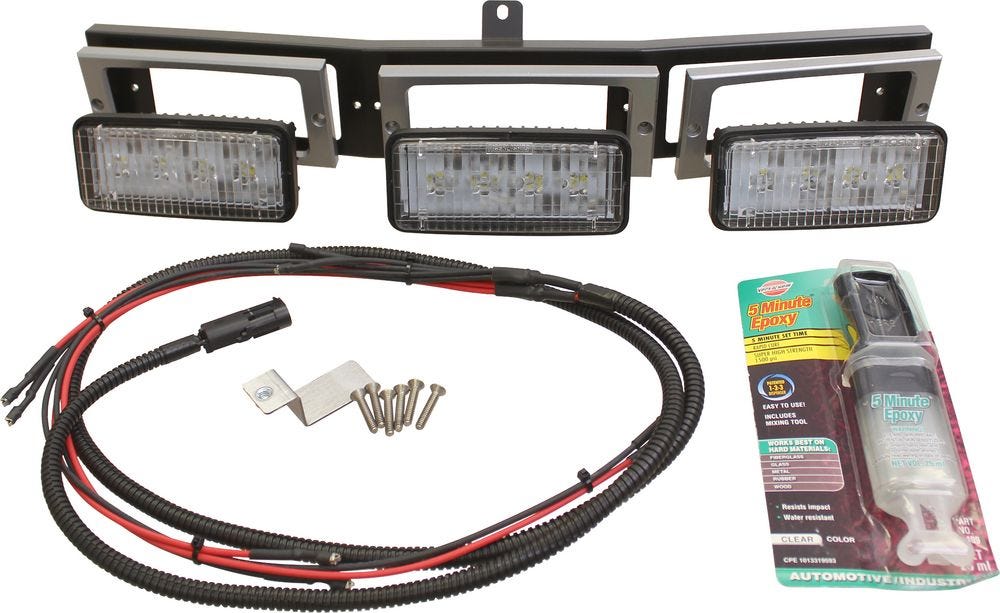 LED FLOODLIGHT CONVERSION KIT FOR JOHN DEERE® TRACTORS, TL4200
John Deere® Tractors - 4240, 4430, 4440, 4630
Converts Hood Lights to LED Lights
Includes (3) Rectangle Floodlights
Each Light is 4320 Lumens, 90 Watts, 7.50 Amps
For 12 Volt to 24 Volt Systems
Includes:
- LED Lights
- Wire Harness, Plug-and-Play
- Housing
- Billet Bezel
- Hardware
LED LIGHT KIT FOR CASE IH® TRACTORS
Case IH® Tractors - MX180, MX200, MX210, MX220, MX230, MX240, MX255, MX270, MX285
For 12 to 24 Volt Systems
Plug-and-Play Installation
Stainless Steel Mounting Hardware
*May require splicing into wire harness
LED FLOODLIGHT KIT FOR JOHN DEERE® TRACTORS
John Deere® Tractors - 8100, 8100T, 8110, 8110T, 8200, 8200T, 8210, 8210T, 8300, 8300T, 8310, 8310T, 8400, 8400T, 8410, 8410T
4 Lights used in the Nose, 2 Lights on the Windshield, 2 Lights under the Steps and Fuel Tank, and 4 Lights on the rear of the Tractor
Includes (12) Rectangle Lights
Each Light is 3200 Lumens, 40 Watts, 3.20 Amps
For 12 Volt to 24 Volt Systems
Interchangeable Mounts Included
Plug-and-Play Installation